Shark Fishing Adventures in Hilton Head Island
Hilton Head Shark Fishing .com offers information on shark fishing charters in the Hilton Head Island, South Carolina area, as well as nearby Daufuskie Island, Palmetto Bluff, and Bluffton, SC. We're your source for Hilton Head Shark Fishing charters and information.
Featured Shark Fishing Charters:
"The Lowcountry's Outdoor Adventure Company"™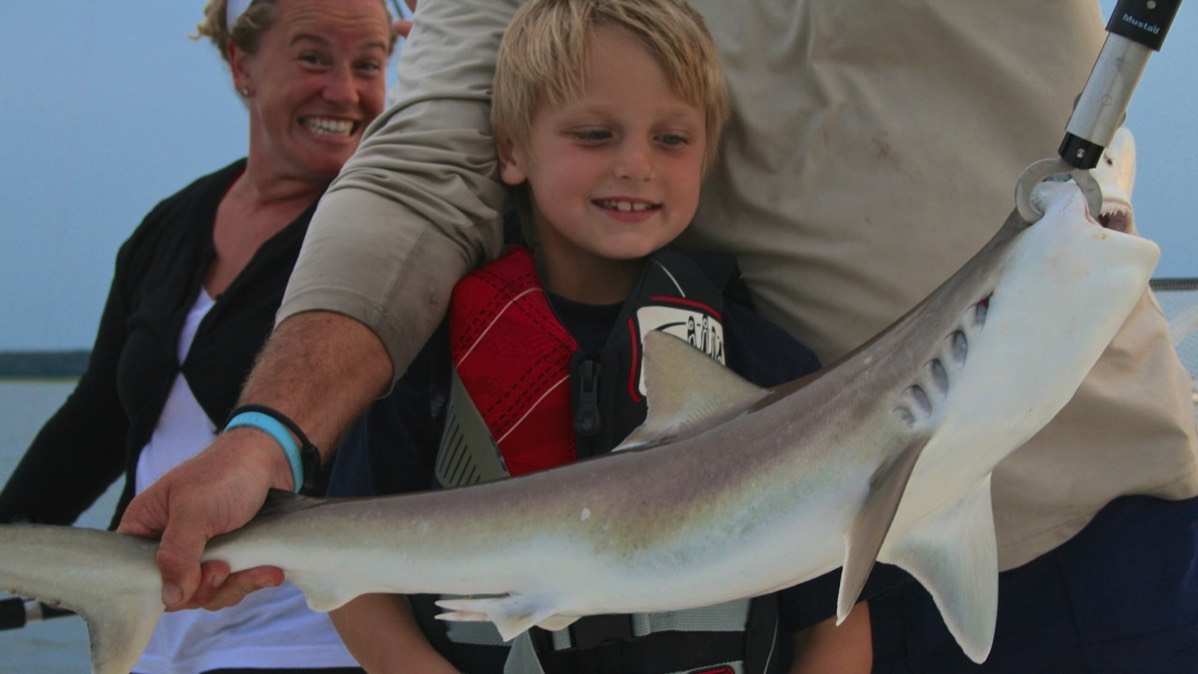 Live Oac is one of the highest regarded charter companies in Hilton Head Island, SC, well known for providing top-notch quality service on ideal boats with experienced guides. Both daytime and evening shark fishing excursions are available as private charters. Depending on the vessel and the trip type, they can accommodate up to 6 passengers per boat, and multiple boats are available for larger groups. The Live Oac approach is Family and Fun oriented, focused not just on fishing for sharks, but also on education about these interesting creatures of the deep, as well as the other fascinating wildlife in the salt marsh estuary and tidal waters of the lowcountry. You have a great chance of catching shark, seeing dolphin, and having FUN with a Shark Fishing Charter from Live Oac.
A variety of sharks inhabit the waters surrounding Hilton Head Island and the Lowcountry. Hammerheads and similar Bonnethead sharks are a popular catch. Black Tip sharks produce a great amount of action, putting up quite a fight and even sometimes leaping out of the water. Bull Sharks, the occasional Finetooth shark, Tiger shark, Lemon Shark, Dusky Sharks, Spinner Sharks and Sharpnose sharks are all possible catches throughout the season. Shark Fishing is best from April through September, with some variation depending on bait fish populations and other natural patterns. In the cooler months, some Dogfish sharks can also be targeted in the right place at the right time. The most frequently caught sharks on Hilton Head Island waters are in the 2-4 foot range. There are smaller and larger ones out there, of course.

Looking for some serious "Monster Shark" fishing? Live Oac offers 4 & 6 hour specialty "Monster Shark" charters for an extreme fishing experience. Be sure to ask specifically for this type of trip, best suited for older teens and adults. Grappling with a 6'+ "Monster Shark" is no easy task, and makes for a great team approach.
Hilton Head Shark Fishing encourages Catch And Release and sustainable harvest fishing. Help protect our natural resources, and practice smart fishing especially with threatened populations. Let's make sure we have the opportunity to teach our children's children to enjoy fishing as much as we do!
Live Oac offers shark fishing on several types of boats, including SUV Deck Boats, Flats Boats, and larger Sport Fishing boats. Here are some key differences that might help you in choosing the best boat for your group:
SUV Deck Boats — Live Oac pioneered Hilton Head's "kick back and relax" fishing aboard SUV Deck boats in 2006. With space for up to 6 guests total, keep in mind that about 4 adult-sized guests is a more conservative match and comfortable approach. The name "SUV" is fitting, as these boats offer comfort and versatility on the water just like a Chevrolet Tahoe would on the road, and they can go just about anywhere from the open water of Hilton Head's sounds to the tidal creeks and shallow marsh areas farther inshore.

Flats Boats — Smaller skiffs designed for shallow water, and idea for 1-2 guests, sometimes 3 or 4 depending on the size of the boat. These are great for targeting sharks and other species in very shallow water. Sight casting to a 3 foot bonnethead cruising the marsh flats is a really cool experience! A flats boat has more space for standing and casting, so they are adaptable to some more technical fishing approaches like fly fishing or poling through skinny water to sight fish for sharks and redfish.

Sportfishing Boats — Larger fishing vessels, typically suitable for up to 6 guests and fully equipped to fish both inshore and in the open ocean.
Featured Fishing Charters for Sharks in Hilton Head:
Freeman 29 — Capt. Blair Willis

A professional waterman since 1996, Capt. Blair guides inshore and offshore fishing trips for all species. A Live One is a Freeman 29 catamaran that features an amazing ride and lots of space.

25' FJ&S SportFish — Capt. Travis Meissner

Hammerhead™ is Live Oac's 25' SportFish guided by Capt. Travis Meissner, who has been leading trips with Hilton Head's Live Oac for nearly a decade. Specialties include redfish and shark fishing in Port Royal and Calibogue Sounds, and yes, Hammerheads are not uncommon when you're fishing with Captain Travis!

Yellowfin 17 Skiff — Capt. John Werner

Check out the flats and inshore waters with Capt. John Werner aboard Live Oac's Stingray. This Yellowfin 17 Skiff offers a fantastic ride and the ability to get into super skinny water where the redfish like to hide. Capt John's years of experience as a fishing guide and an athletic coach provide a perfect blend of talents for both beginning anglers and lifelong fishing fanatics. You'll have a blast with Capt. John on the Stingray.

Fish for sharks and other coastal species like redfish (red drum), crevalle jacks, cobia, spanish mackerel, bluefish, or tarpon on Live Oac's Cost. This 19' Scout Flats Boat offers a tremendous amount of space and stability, with an 8 foot beam that dwarfs most other flats boats. Catch a blacktip or bonnethead shark while sight casting in the marsh creeks!

Live Oac's SUV Deck Boats

Black Tip Shark & White Tip Shark are Live Oac's 21' Hurricane Deck Boats, which are great inshore boats for family fishing fun. Join an experienced Live Oac adventure professional, all of whom are USCG licensed captains, on an inshore shark fishing trip in Hilton Head. Shark fishing charters on the SUV Deck Boats are offered April through September, with daytime trips during cooler weather and evening trips when it's warmest. Focus is on small and mid-sized coastal sharks, and these trips are perfect for kids!

WHEN to fish for Sharks in Hilton Head:
Best Times of Year for Shark Fishing
Most of Hilton Head's shark species prefer the island's warmer waters from April through October. This is when you'll find the largest populations of inshore and coastal sharks that are the most popular targets on Hilton Head shark fishing charters.

During the colder water season (approximately November through March) there are few sharks in our inshore waters, but some exceptions include occasional bonnethead sharks (a species of hammerhead) and some dogfish. Another notable cold water visitor is the Great White Shark, which is known to visit our coast during the winter. Shark Fishing during these months is much less consistent due to the lower populations, and most charters are going to be targeting other non-shark species such as Black Sea Bass, Sheepshead, Red Drum, and Spotted Sea Trout. Fishing activity in the winter tends to be better the further offshore you go, as water temps will usually be several degrees higher and likely to hold more fish.
Best Times of Day for Shark Fishing
There are two things to considering when scheduling a shark fishing charter. First, make sure it's a comfortable time of day for your group and your schedule. Temperature is going to play a big part in this decision, especially when it's during extremes of weather like the peak summer heat, or on a particular cold day in the spring or fall. Your group composition (age, health, comfort) and how well you are prepared and equipped for shark fishing are important.
"Evening Shark Fishing" (Usually 3 to 4 Hours)
During the warmest months (June/July/August), an evening shark fishing charter is often ideal. As the sun gets lower in the sky and air temperatures begin to cool off, the action often heats up underwater! Evening shark fishing trips are an ideal time for most ages to enjoy a comfortable fishing experience. It's perfect for families with younger children who might not be as comfortable during a mid-day excursion with high heat and short attention spans. Even adult-only groups will see the benefit of cooler evening temps. Nothing like topping off the perfect day with sunset on the water.

"There's something about an evening fishing trip, when the water starts to settle into a calm glass with the setting sun," says Captain Blair Willis of Live Oac fishing charters, continuing, "and I absolutely love when that peace and quiet gets interrupted by the sound of a fishing reel spinning up as a big shark takes the hook!"

To fit family schedules, some charter companies such as Live Oac offer shorter shark fishing trips during the evening slots. Live Oac says that young anglers (5-10 years or so) are often best on a 3 hour evening trip. Most evening charters are scheduled to end just before or after sunset, and you can pack a snack or sandwiches if you want to have something to eat while on the water.
"Daytime Shark Fishing" (Usually 4+ Hours)
Don't think you're limited to the evening hours for catching sharks. They are active throughout the day and whenever they have a chance to feed they usually will. Hilton Head shark fishing charters are often half day (~4 hour) charters scheduled in the morning or afternoon. If you can get your group rallied on a summer vacation morning, you'll typically enjoy the benefit of more comfortable temperatures, and the best chance for catching the freshest live bait, which sharks particularly enjoy. Cast netting for live bait is a usual event on a morning charter, as the menhaden bait schools are more easily found before the sun gets too high. This is a primary baitfish for shark fishing in Hilton Head, as they are eaten by pretty much every shark species in our coastal waters. The large population of bait fish is a big reason Hilton Head has such an excellent shark fishing reputation.

Shark fishing in the afternoon is often the most popular choice during the cooler spring and fall months, when it's most comfortable being in the warmth of the sun. While most charter boats do offer afternoon trips during the peak summer heat, you'll really want to reconsider planning ahead getting up early for a cooler trip. During the busy season, an afternoon trip is sometimes the only option available on a last minute reservation, but rest assured you can still catch sharks throughout the day.

The tide often has more of an impact on the shark activity and how active the sharks are biting. The tide schedule changes day to day, shifting about an hour later each day. There are usually several "peak" times for the bite, which most guides will tell you is when the water is moving, but not too fast. These patterns aren't always consistent, and by taking a longer charter you'll have better opportunities to fish through a variety of tide levels.
About HiltonHeadSharkFishing.com
Since 2006, HHSF has been providing information on the best Hilton Head, SC shark fishing charter boats and guides. Our goal is to promote positive fishing experiences and showcase the best adventures that Hilton Head has to offer.
Disclaimer & Terms Of Use